How to | Choose a curtain heading
Along with choosing the right fabric, it's also important to pick the right curtain heading to help achieve your desired look. We offer a variety of curtain headings to suit all styles and all fabrics.
Which header should I choose?
Your curtain heading is an important factor when it comes to your made to measure curtains. There are a number of curtain heading types to choose from, each creating its own unique look. The aim of this guide is to help you decide which heading is best for you, along with which curtain pole or track would be most appropriate.
Heading options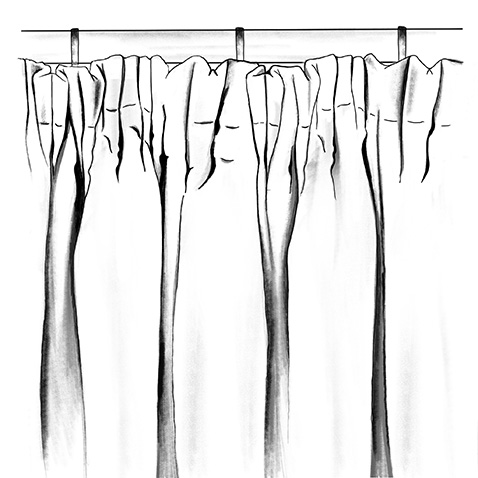 Gathered
Also referred to as cottage pleat, gathering gives a traditional yet informal look to your curtains. A gathered heading is suitable for most fabrics and looks great with smaller windows or shorter curtain drops.
You can use either a track or a pole with gathered curtains, depending on your preference. A pole will be visible whereas tracks are recommended for those wishing for a more discreet look.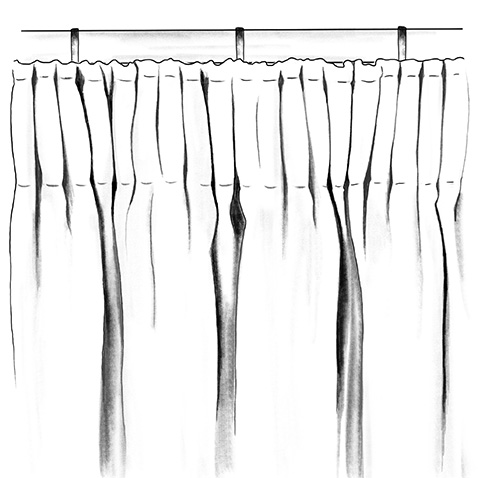 Pencil pleat
One of our most popular heading choices, pencil pleat is given its name due to the resemblance of a line of neat pencils.
Neat and elegant, pencil pleat curtains work beautifully in both period and contemporary homes, and are suitable for both tracks and poles.
If you are making the curtains yourself, you can buy 5cm pencil pleat tape here.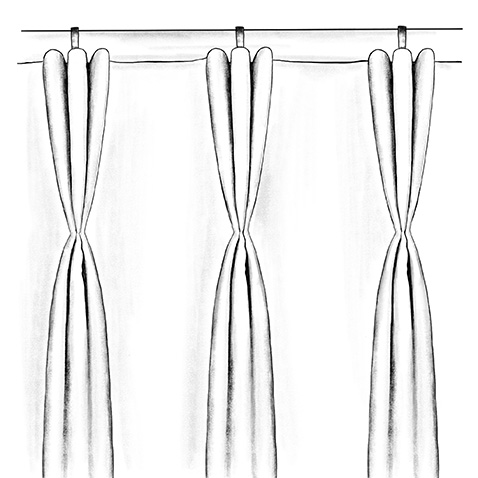 Pinch pleat
Also known as a triple pleat or French pleat, a pinch pleat heading is a classic and elegant curtain heading choice. The organised pleats allow the curtains to stack neatly, in contrast to pencil pleat which fall more randomly.
To achieve this look, the pinch pleat header is sewn into place. If you would prefer an adjustable curtain header with a similar effect, we'd recommend opting for a pencil pleat instead. You can use either a pole or a track.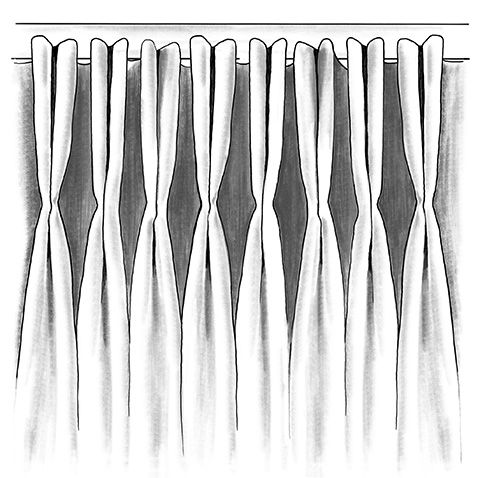 Double pinch pleat
A double pinch pleat heading is a slightly more modern take on the triple pinch pleat. It's a good choice for heavily patterned fabrics as less of the pattern is gathered into the fold than a standard pinch pleat.
Again, the header is sewn into place so wouldn't be suitable if you'd like an adjustable curtain header.
Opt for either a pole or track, depending on personal preference.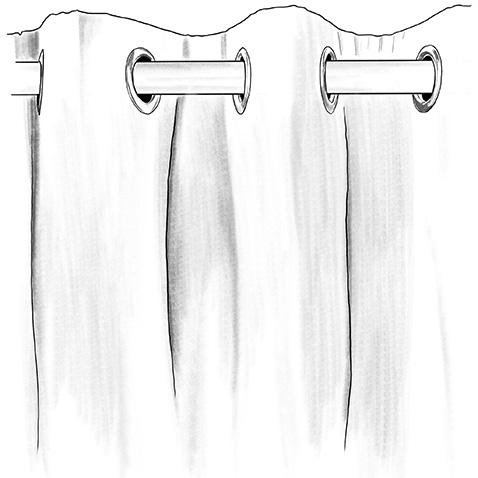 Eyelet
If you're looking for a modern curtain heading, then we'd recommend choosing an eyelet heading . This style gives curtains a contemporary finish due to their deep folds and clean lines.
Available in nickel, brass or gun metal depending on the desired look, eyelets will only work with curtain poles. They are easy to install and will fall in beautiful soft pleats when hung.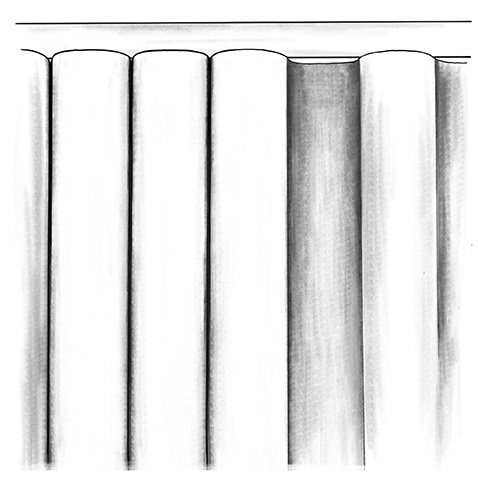 Wave heading
Wave headings are stylish and modern, perfect for modern interiors. When stacked back, they have a very neat, uniform look and are efficient at letting lots of light in. They are also great for tall windows where there is limited room to fit a pole.
We would not recommend heavy or stiff fabric for a wave heading. Wave curtains require a specialist track and gliders that have been designed for wave curtains.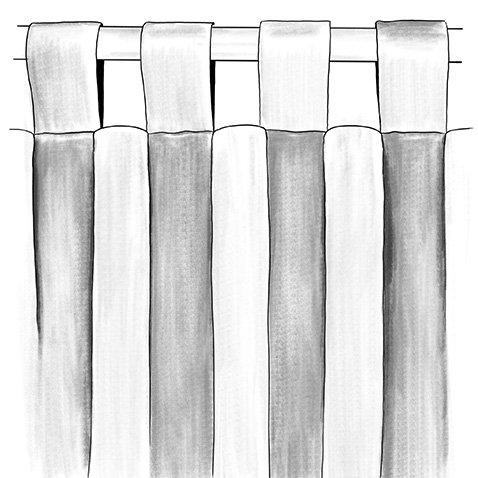 Tab top
One of the more contemporary choices, tab top curtains are versatile and easy to hang. Simply loop the tabs onto your curtain pole and admire your new curtains.
Tab top headings are not suitable for rooms you wish to exclude the light from, such as nurseries or children's bedrooms, as light often escapes in the gap between the tab tops and the main curtain.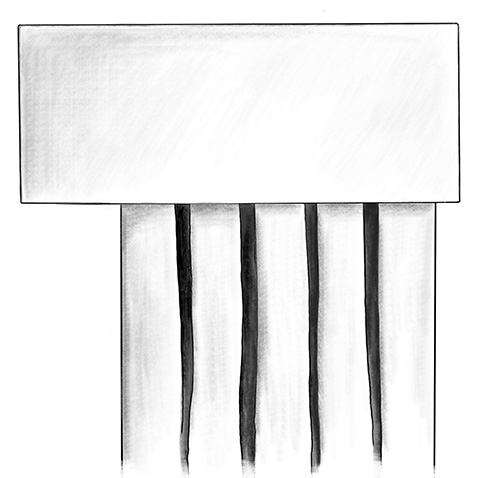 Straight pelmet
A pelmet design adds structure to a window treatment and ensures the curtain track remains concealed. Straight pelmets are effective at adding a slightly more contemporary feel to the scheme.
Supplied with pencil pleat curtains, pelmet board, track and gliders. Made from high quality ply, covered with interlining before being upholstered.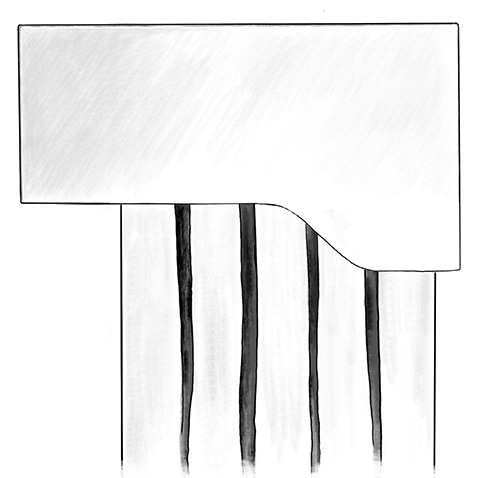 Shaped pelmet
Well-suited to more traditional interiors, a shaped pelmet has more of a classic feel.
Again, our shaped pelmets are made from high quality ply, covered with interlining before being upholstered and are supplied with pencil pleat curtains, a track and gliders.
Curtain heading inspiration
Real made to measure curtains in customer's homes