Once you've purchased your rug, you'll need to know how to care for it in order to keep it looking great. Different types of rug require different types of care, so it's important to make sure you know what's best for your rug type. This guide will help you to understand general rug maintenance, spot-cleaning and what's appropriate for each material and style of rug.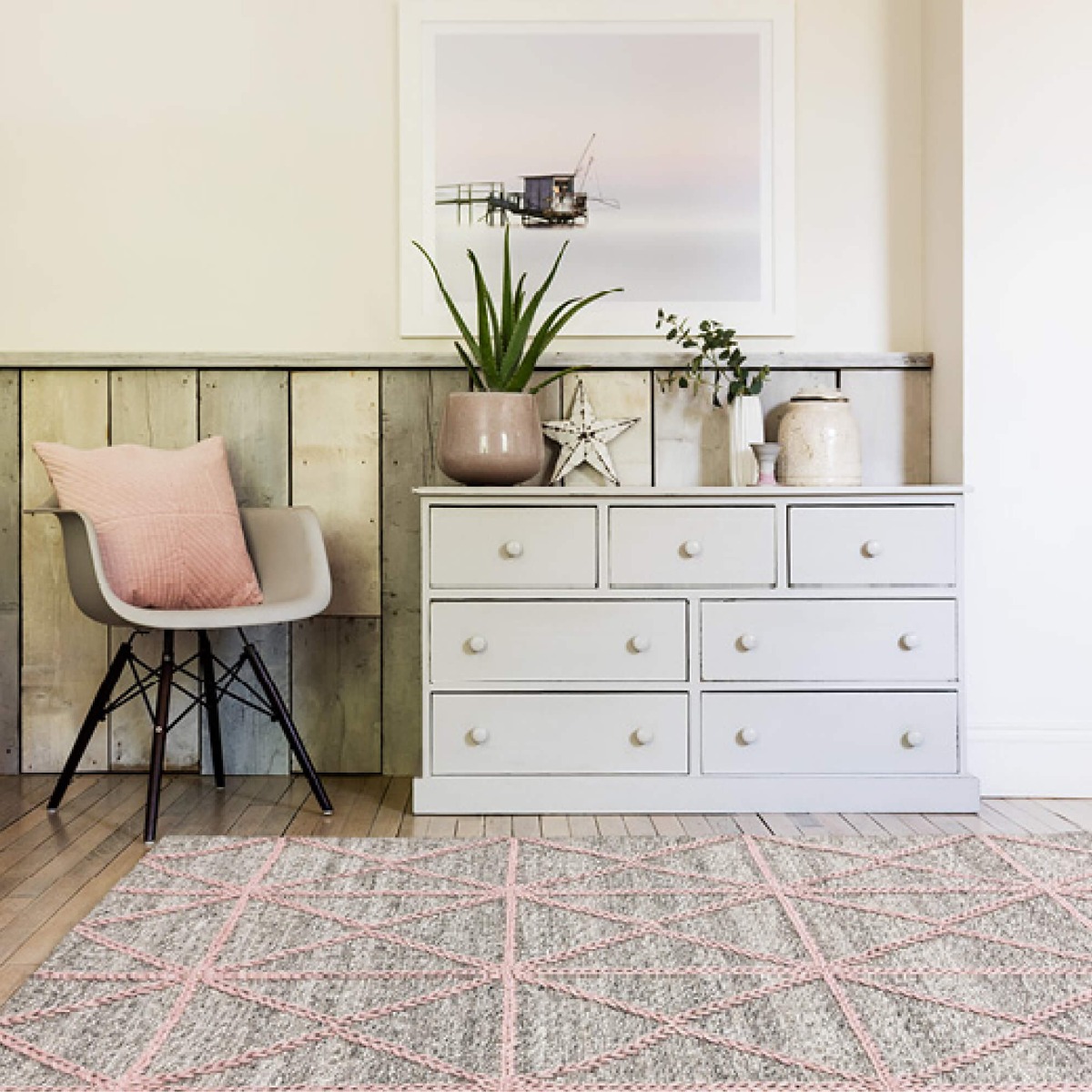 As advised in our rug buying guide, some rugs are best placed in areas where spills are unlikely and shoes are off, because cleaning them can be tricky, but accidents happen and sometimes we end up with a stain or scuff.
Ultimately, our recommendation for rug cleaning must be to seek the help of a professional, who will be able to use the right technique and substance for the specific material and weave of your rug, but for some rug types, spot cleaning is possible. As soon as you become aware of a spill, blot (but never rub) it with a dry, white cloth to remove any excess liquid and minimise staining. In some cases, a clear, mild detergent with lukewarm water may be dabbed on the stain to further reduce the effect. Always refer to the care label on your rug when considering a spot clean.
| | | | |
| --- | --- | --- | --- |
| Material | General care | Can I spot clean it? | Further information |
| Wool | Vacuum | Yes | Wool is very absorbent, so spills should be blotted immediately. A mild, clear detergent and lukewarm water may be used to spot clean. |
| Viscose | Vacuum | No | Viscose is very absorbent, so spills should be blotted immediately, however attempts to use water or detergent may result in further staining due to the delicate nature of the fabric. |
| Sisal & jute | Vacuum or brush | Yes | Both natural materials, with a good resistance to spills, these rug types should rarely require cleaning. A mild, clear detergent and lukewarm water may be used to spot clean. |
| Sheepskin | Brush | No | Sheepskin is a natural material, very absorbent and often light in colour, therefore we do not recommend that you attempt to clean it at home. Frequent brushing with a special sheepskin brush with help to eliminate dust and dirt, and to the skin to retain volume and softness. |
| Kilim | Vacuum | Yes | Kilim rugs are usually flat and can be vacuumed easily to keep them free from dust and dirt. Take care with any tassels. A mild, clear detergent and lukewarm water may be used to spot clean. |
| Flatweave | Vacuum | Yes | Flatweave rugs can be vacuumed easily to keep them free from dust and dirt. Take care with any tassels.A mild, clear detergent and lukewarm water may be used to spot clean. |
| Hand-tufted | Vacuum | Yes | Hand-tufted rugs often have a high pile and may require slightly stronger suction when vacuuming in order to remove dust and dirt. A mild, clear detergent and lukewarm water may be used to spot clean. |
| Hand-knotted | Vacuum | No | Hand-knotted rugs are often high-value and therefore higher risk for home cleaning. We recommend always enlisting the help of a professional for this type of rug and using a low setting when vacuuming. Take care with any tassels. |
| Hand-loomed | Vacuum | Yes | Hand-loomed rugs are usually flat and can be vacuumed easily to keep them free from dust and dirt. Take care with any tassels. A mild, clear detergent and lukewarm water may be used to spot clean. |
| Shaggy | Brush | No | Shaggy rugs tend to have a long pile and may get stuck in a vacuum cleaner, so frequent brushing is recommended. Due to their fluffy texture, they tend to be very absorbent and are difficult to clean at home – we recommend seeking professional advice. |