Buying guide | Rugs
How to choose the perfect rug for your home.
The right rug can have a transformative effect on your space, adding warmth, texture and colour, but with so many sizes, styles and types available, it can be hard to find the perfect one for your home. This guide will help you to understand exactly what type of rug will suit your interior and lifestyle, with information and advice about everything from pile height to patterns.
There are a number of different things to consider when purchasing a rug, and it can be helpful to make a list of desired attributes before browsing, taking into account the size and shape of your room, your colour scheme and floor type.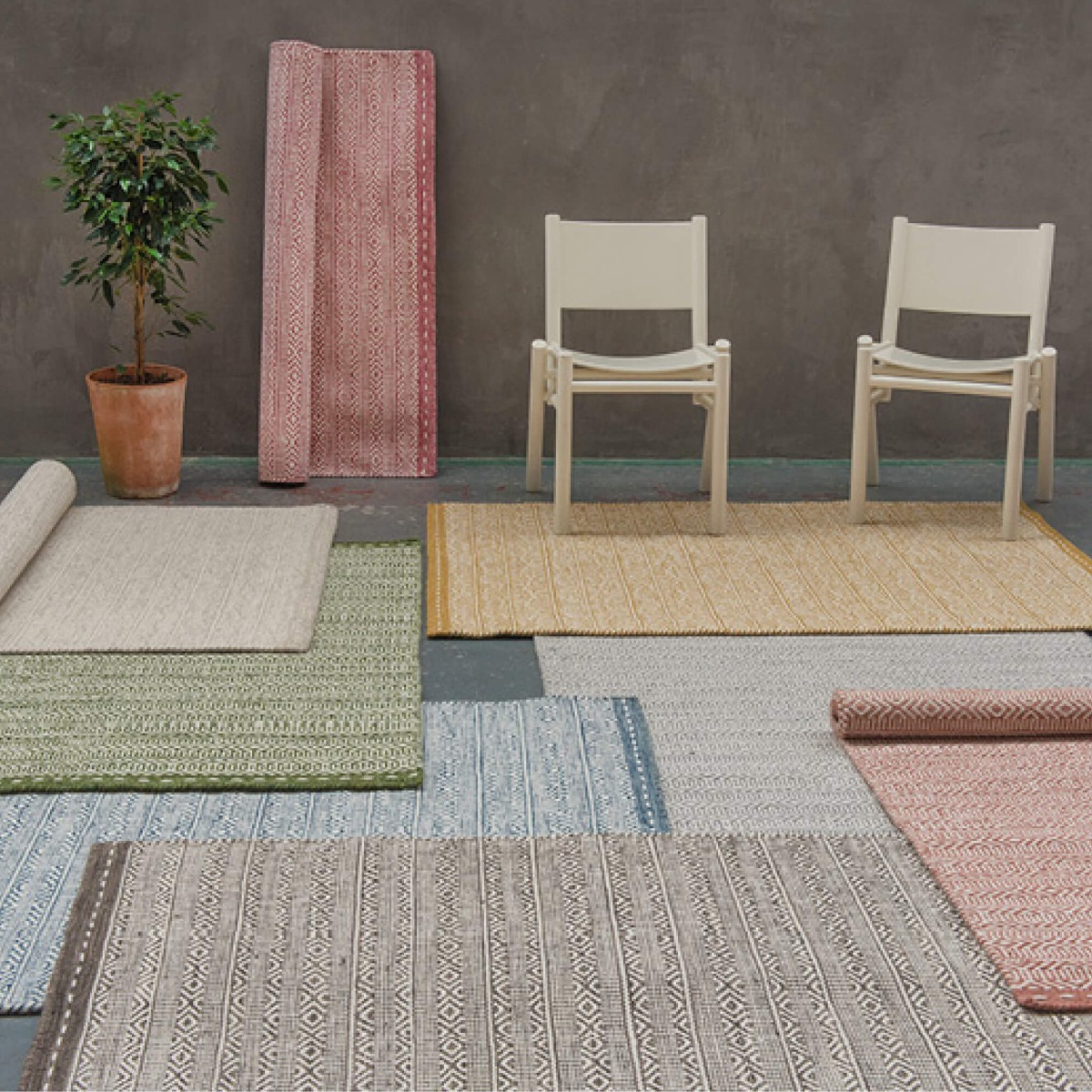 We suggest considering the following:
Style: What type of aesthetic are you aiming for?
Use: What purpose is your rug going to serve? Is it to soften a hardwood floor, or purely to add a decorative touch?
Position: Where in the house is your rug going to sit? It is an area of high footfall? Will it be exposed to bright sunlight?
Size of the space: Is this a simple bedside rug, or will you be using it to define a space in an open plan room?
Care: How much care and maintenance is required by your chosen rug, and will this be practical for you? See our rugs care guide for more details on this.
1. Rug size, shape and position
The size, shape and position of a rug makes a huge amount of difference in the overall look and feel of your space – here's how to gauge what's right for your home:
What shape of rug should I choose?
The shape of the rug you choose will dictate how the space flows in your home; rectangular rugs can help define an area in larger spaces, while round rugs work beautifully in square rooms but can look lost in more spacious ones. The most popular rug shape is rectangular, with most rooms also being this shape. Traditional rectangular rugs work beautifully as a centrepiece in living spaces, or under long dining tables, while runners (long, thin rugs) are perfect for hallways and galley kitchens. Square rugs can be overlapped at the corners to give a unique shape, and to fit under and around furniture.
When choosing your rug shape, consider the layout of your room and the furniture it contains; your rug should compliment the flow of your space, or it could look misplaced.

What size rug should I choose?
According to many interior designers, the cardinal sin of home design is choosing a rug that is too small; rather than bringing a look together, it can make a space look out of proportion. Instead of choosing a rug that fits the space in between your furniture, aim for one that tucks just under the legs of a sofa or chair. If you're torn between two rug sizes, it's usually best to go for the larger one.
If in doubt, use masking tape to mark out the area of the rug on your floor and then take a step back – this will give you a good idea as to whether your sizing is right.
How do I keep a rug in place?
Nothing is more annoying than a rug that keeps slipping and sliding around, or getting scrunched under furniture, but there are measures you can take to ensure that your new rug stays in place. Corner grips can be used to keep corners flat and to prevent your rug from migrating across your living space, while a full-sized rug hold is a thin underlay that extends to the full area of your rug, preventing it from moving at all.
2. Rug type
The vocabulary around rug manufacture can be difficult to get to grips with, so here are a few details to help you when deciding what type of rug is right for you:
Handloom
This method involves using a hand-operated loom to weave the rug, using a system of rods to dictate the height of the pile. It's highly skilled work, utterly fascinating to watch, and results in an artisanal product that has unique nuances and imperfections. Simple patterns can be created using this method, but the real benefit of a handloom rug is its exquisite texture.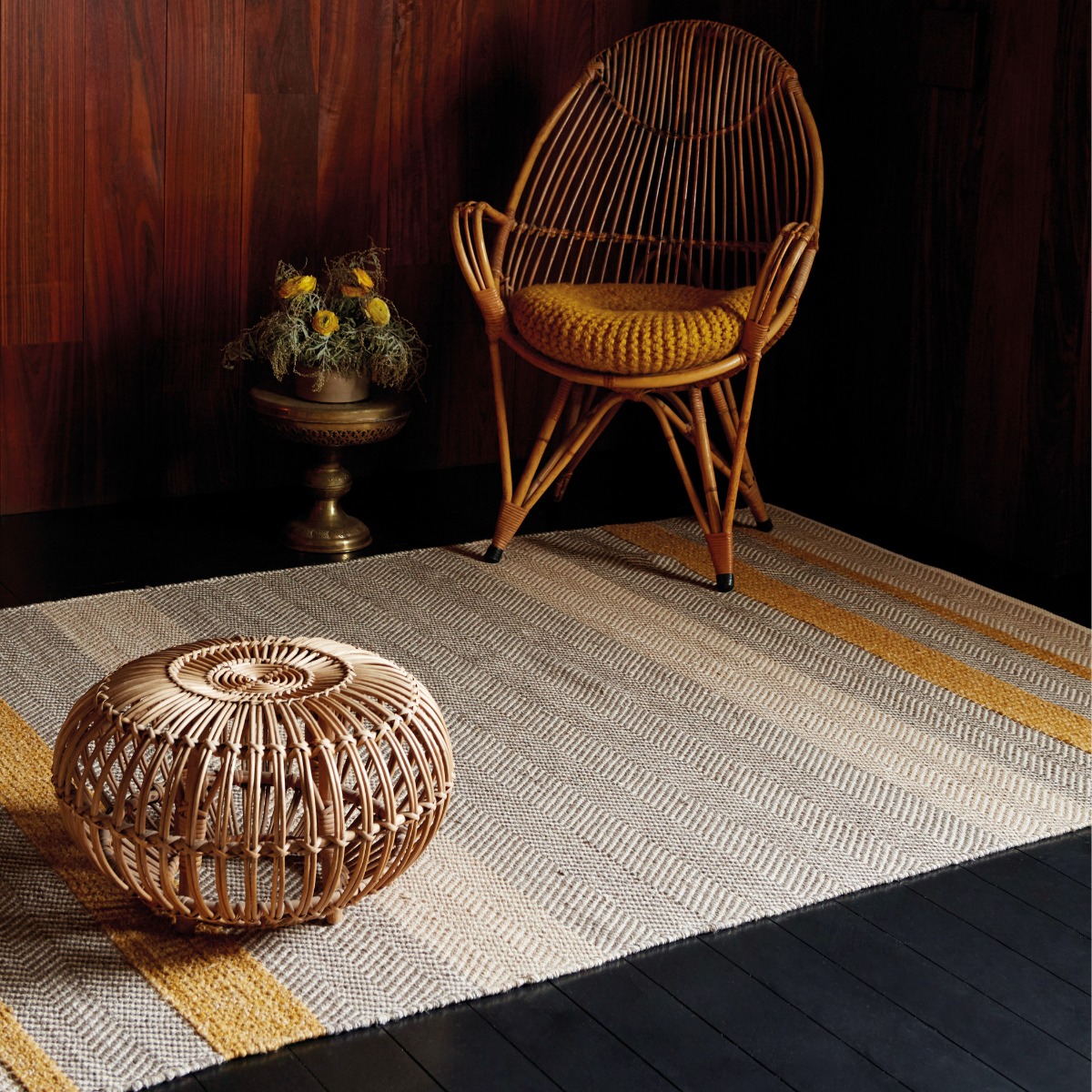 Hand-knotted
Hand-knotting is an entirely manual process, which requires astonishing skill and speed (an average weaver can tie about 10,000 knots per day) and results in a strong, durable rug. The more knots, the longer it takes to craft – some take months - but the hardier and more valuable the rug will be. It is possible to achieve exquisite patterns using this technique, and each rug will always be completely unique thanks to its handmade nature. Knotting results in a flatter pile and a less fluffy texture, and knotted rugs do not usually have a backing to them. They are often finished with a fringe.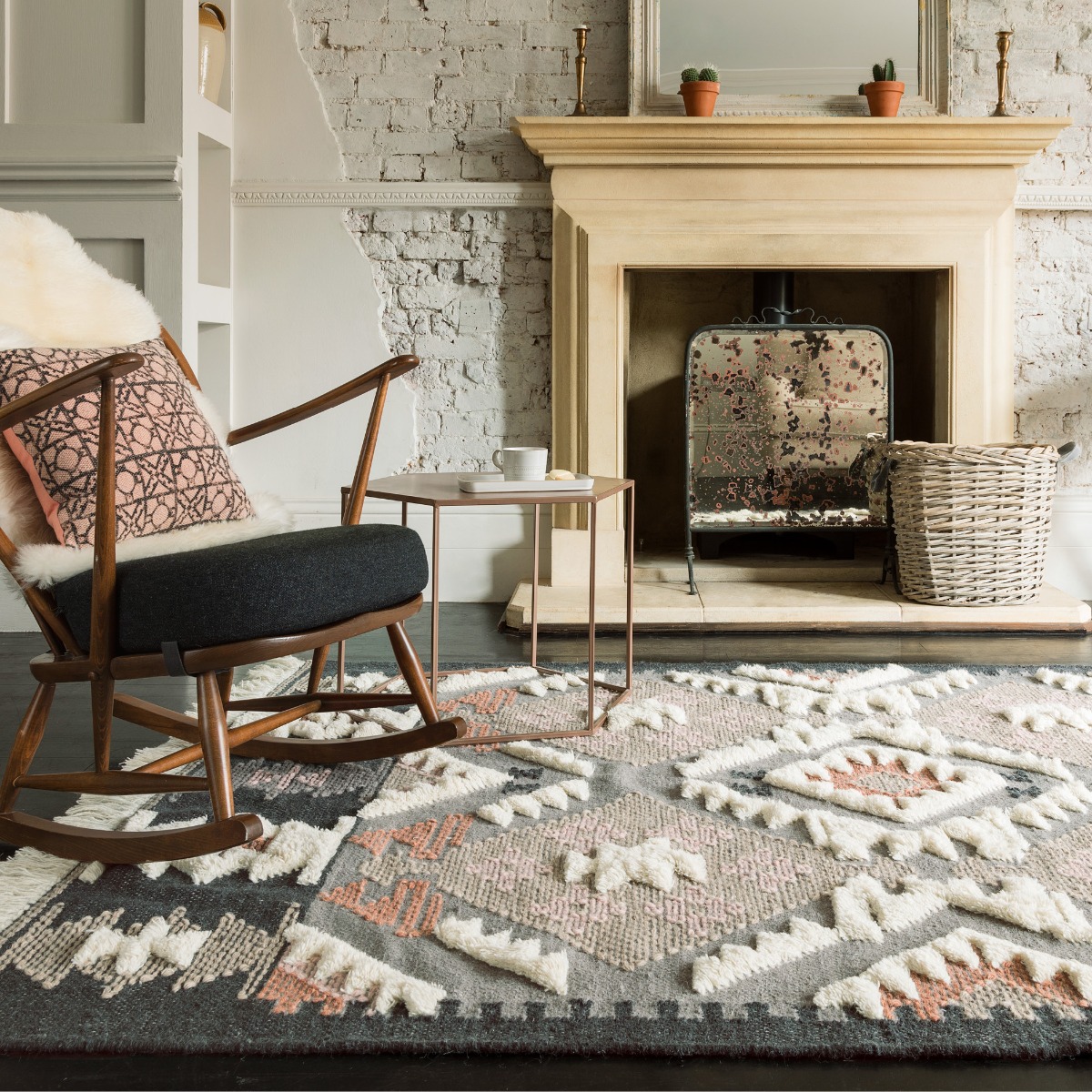 Hand-tufted
Hand-tufted rugs are crafted with the aid of a handheld, mechanised tool, which punches strands of wool (or other yarn) into a canvas that is stretched in a frame. They are much quicker to produce than knotted rugs, meaning that they can be offered at a more competitive price point, but they can also give a thicker, fluffier pile, which is great for reducing echo and adding warmth.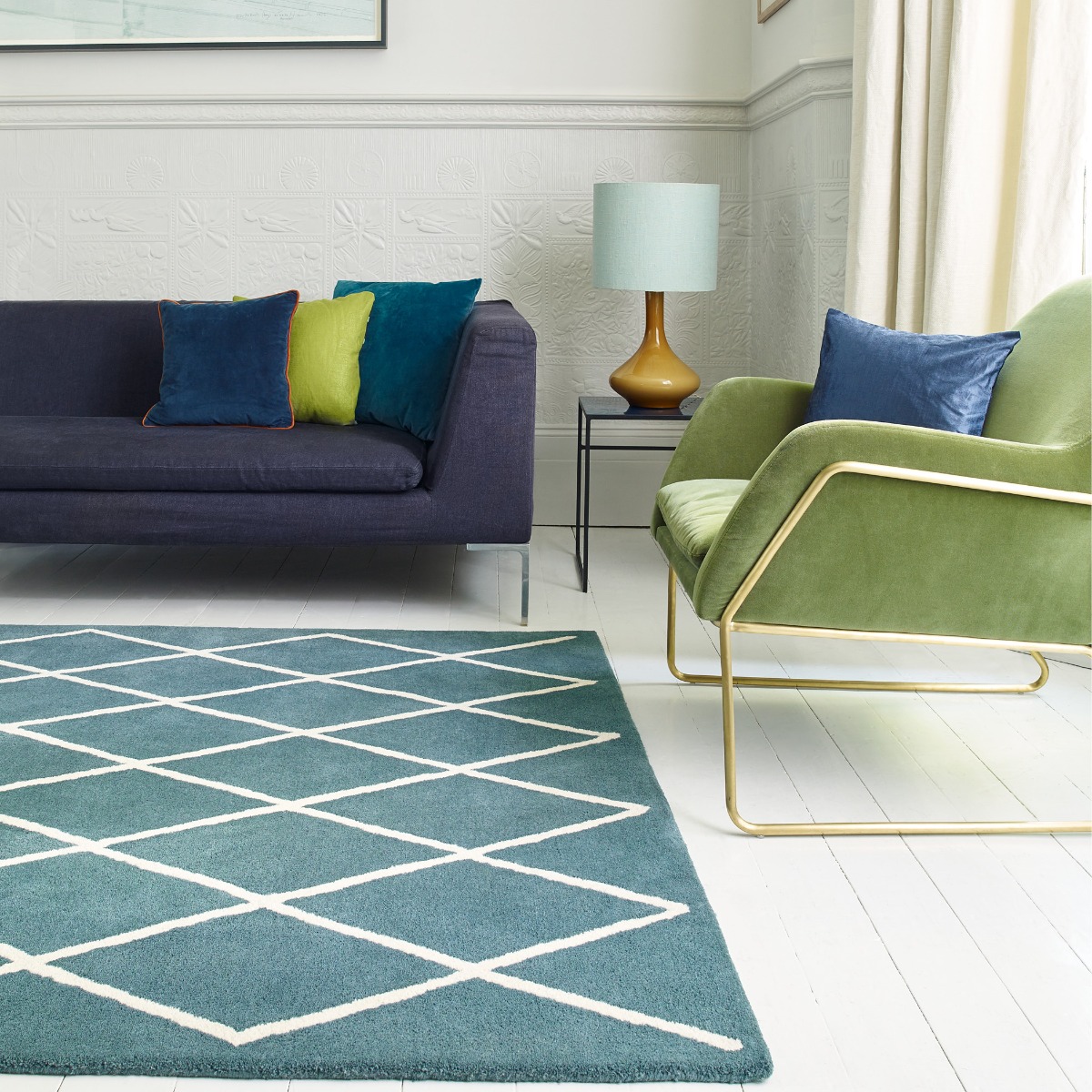 Kilim
With craftsmanship originating from west Asia, kilim rugs are tapestry-woven on a manually operated loom. Perfect for a flatter finish, kilim rugs have no pile to protect the weave, and are therefore more delicate than other rug types. They are often found in geometric patterns, with brightly coloured yarn, and are usually reversible.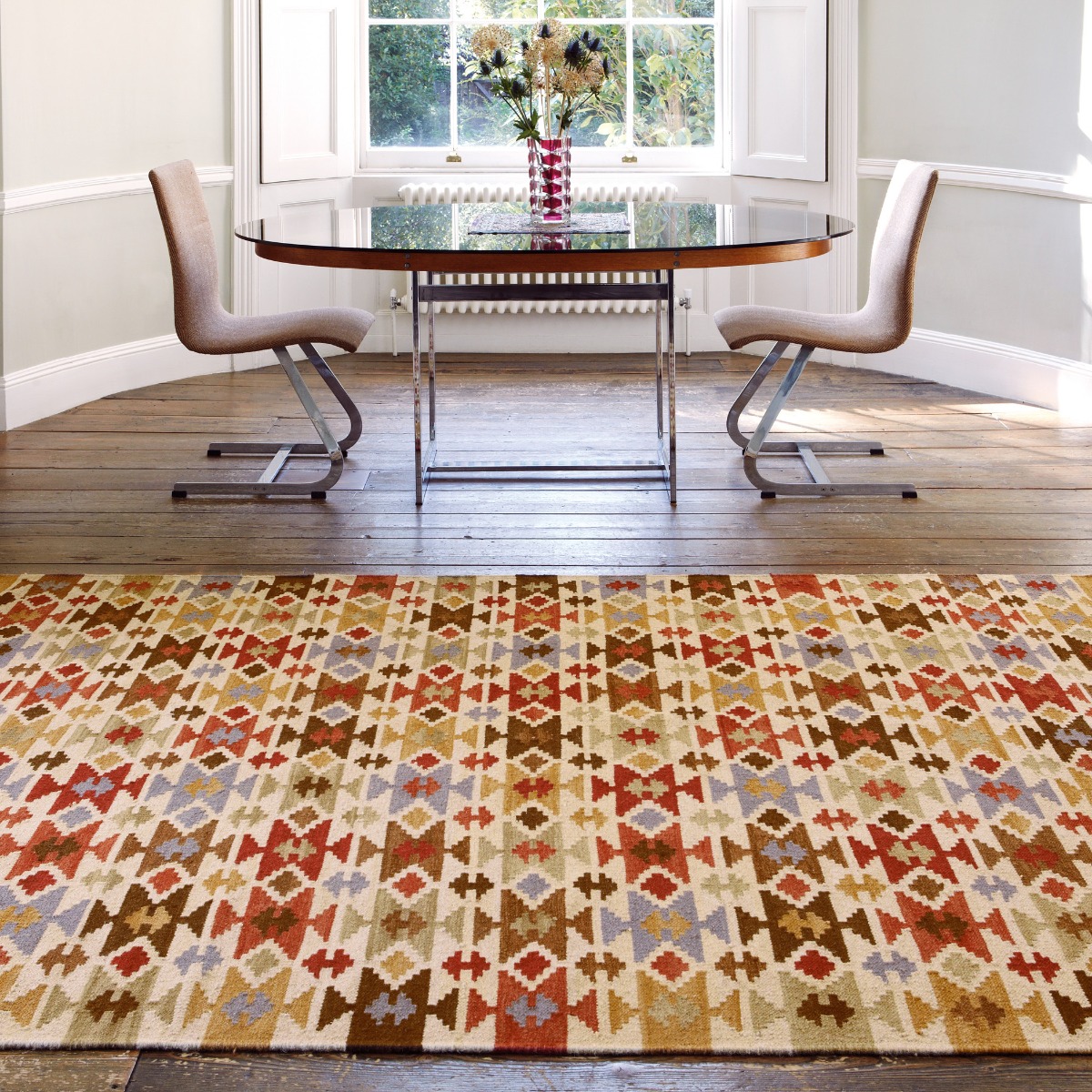 Flatweave
Flatweave rugs have a low pile height and are usually created using a loom. With no pile to damage, they are great underneath furniture or areas of high footfall and are available in a huge variety of patterns and colours – in fact, because their fibres are woven tightly rather than tufted, patterns can be more precise.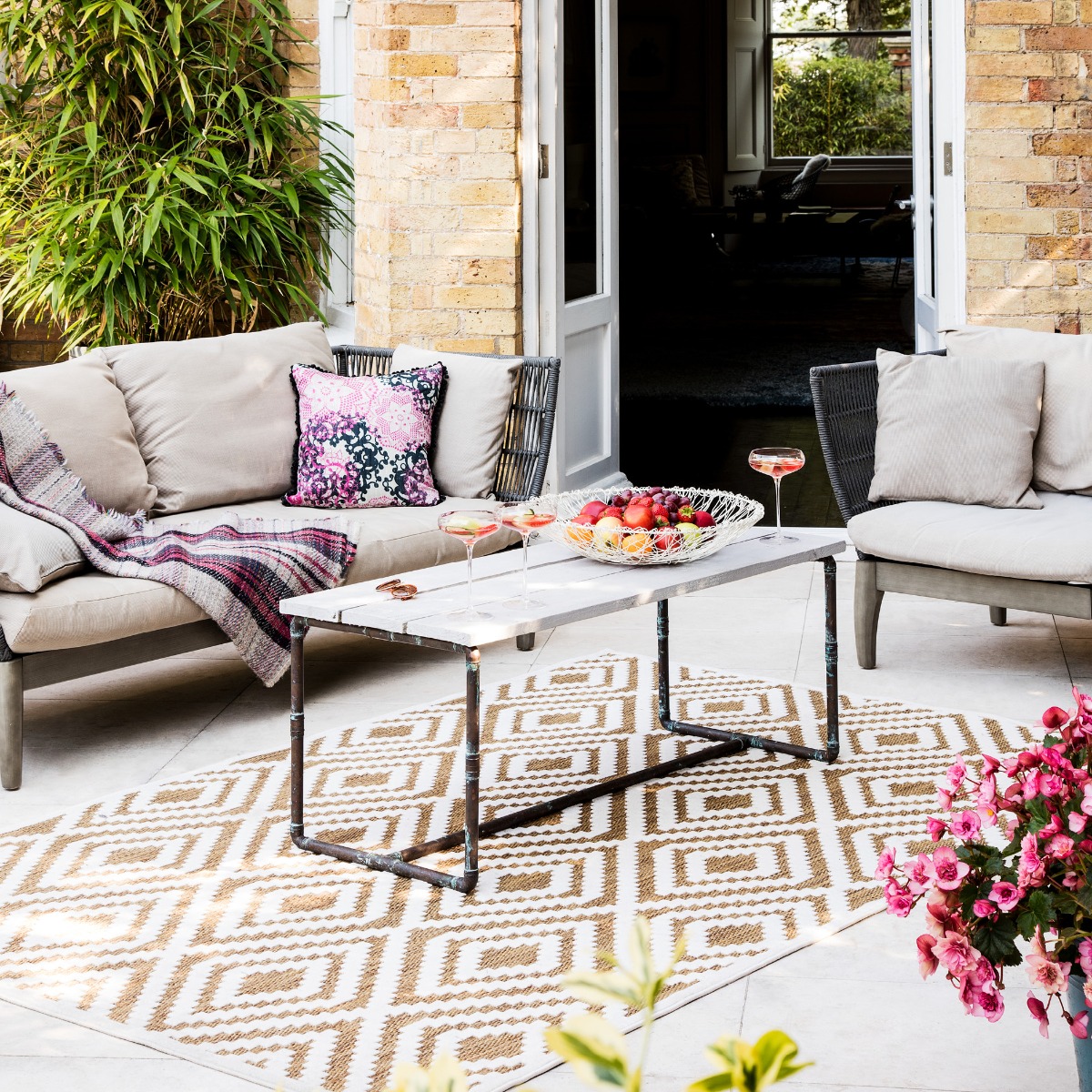 Shaggy
First made popular in the 1970s, a shaggy rug is a must for any retro or boho interior, with its long fibres and soft feel underfoot. One of the most popular types of shaggy rug is the Berber, a Moroccan design that features a diamond pattern on a plain ground.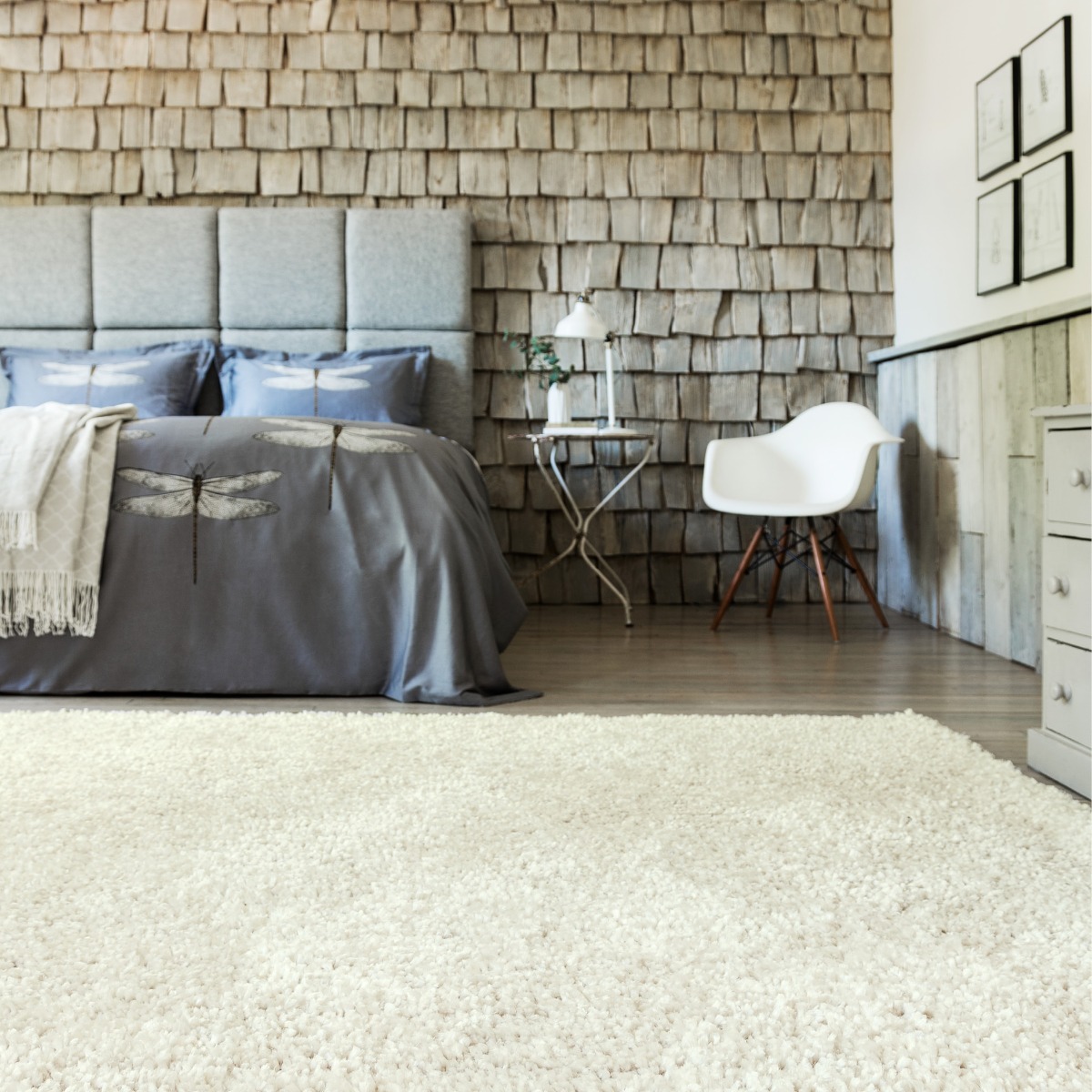 Outdoor
Outdoor rugs are fantastic for anyone who likes to throw the patio doors open at the first sign of summer and create an indoor-outdoor space. Designed to create a cosy and comfortable living space outdoors, these rugs are made from weather-resistant fibres and are hard-wearing.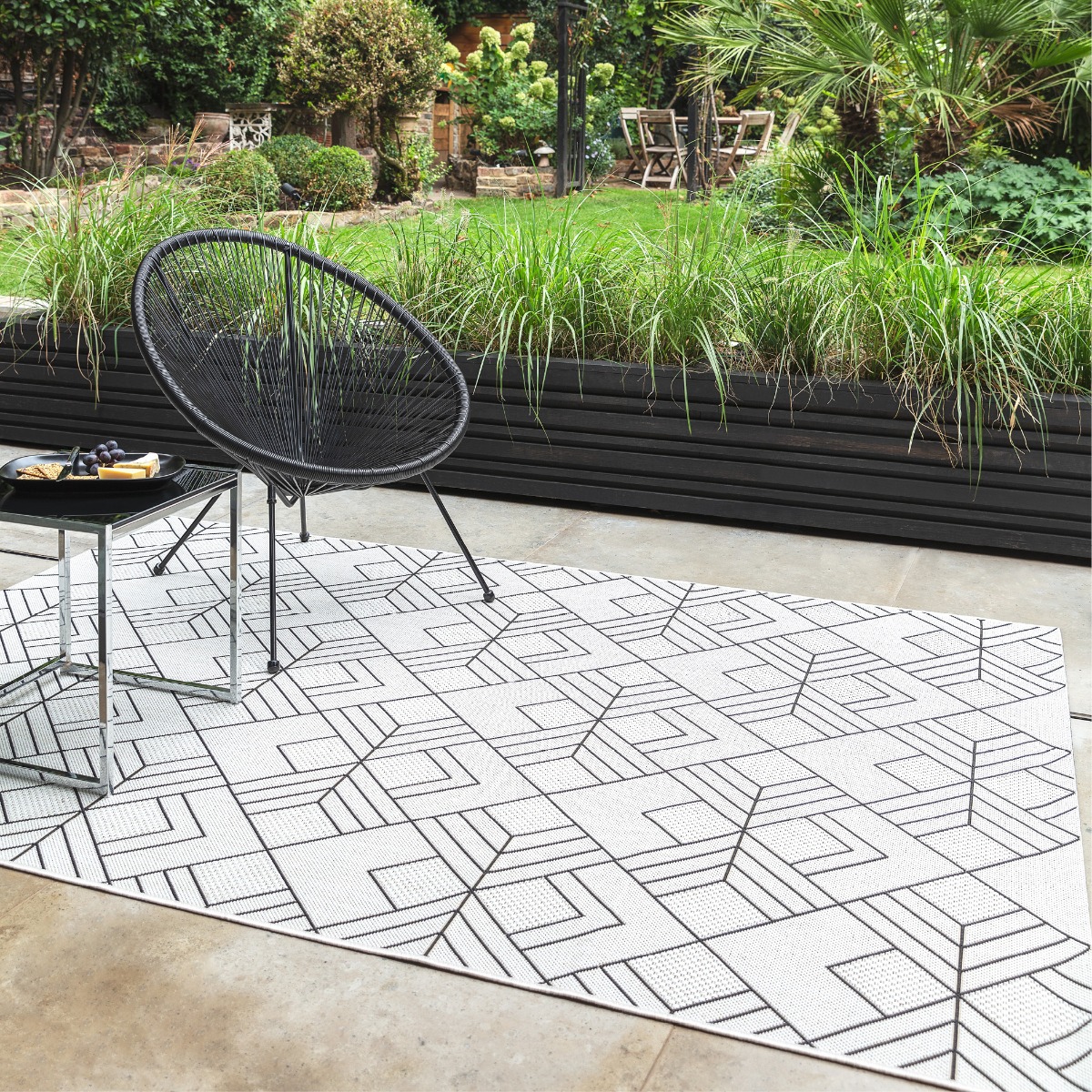 3. Rug material
The type of material you choose for your rug will dictate everything from its appearance to how hardwearing it is. Here are the different materials featured in our range:
Wool
The most popular material for rugs, wool is perfect for areas of your home with a higher footfall as, although it's a natural fibre, it is more durable than some of the alternatives. It feels soft underfoot, is dirt-resistant and has a sound-reducing quality, so would make the perfect choice for apartment living or hardwood floors.
Aesthetically speaking, wool has a beautiful, matte finish, and can be tufted, woven or knotted to give a huge variety of different looks. It's popular in Scandinavian schemes thanks to its rustic, natural finish, but wool yarn can easily be dyed to add a pop of colour or patterned element to spaces of any style.
Viscose
Viscose is a type of rayon that is man-made from cellulose fibres, but which can beautifully imitate other natural fibres, in particular silk. It is versatile and available in a huge variety of different shades, with a sound-reducing quality that makes it the perfect choice for hardwood or laminate floors. Viscose is easily soiled and must be cleaned with utmost care, and is therefore unsuitable for areas of high footfall, or where spills are likely.
The perfect choice for a bedroom or lounge, viscose is beautifully soft and has a light, luxurious shimmer.
Cotton
The qualities that make cotton brilliant for clothing also make it a great choice for rugs; it is breathable, easy to clean and holds its shape well, meaning that it is less likely to warp if placed under furniture and won't be easily ruined by spills. It is often mixed with other fibres, such as wool or polyester, to make it more durable.
Cotton is a popular choice for flatweave rugs, and has a dense, matte finish that works beautifully in more modern schemes.
Sheepskin
Natural sheepskin is a popular choice for rugs, with a huge variety of styles available. Icelandic sheepskins are distinguished by their super-soft, curly finish, and are perfect for a bedside rug, while a traditional shearling skin is straight and more durable. Sheepskins are best used where there are unlikely to be spillages, as stains can be difficult to remove, and may shed lightly.
Sisal
Sisal is a natural fibre derived from the agave plant, which is spun into a yarn for use in rug and carpet-making. It is renowned for its durability, making it perfect for kitchens, utility rooms and hallways, and its pale straw tone can either be left natural or dyed a huge number of colours. Stylish and hard-wearing, sisal rugs are brilliant for areas of high footfall, or underneath dining tables, as they're resistant to stains and spills.