Buying guide | Poles and tracks
How to choose a curtain pole or track.
If you are new to the world of curtains, poles and tracks, it might seem like something of a mystery – which should you choose, what type, and why? This guide aims to help you decide which fitting is best for you, and what will work with your choice of curtains.
Should I choose a curtain pole or track?
This is the first choice you will need to make, as the type of curtains you can choose is dictated by your fitting.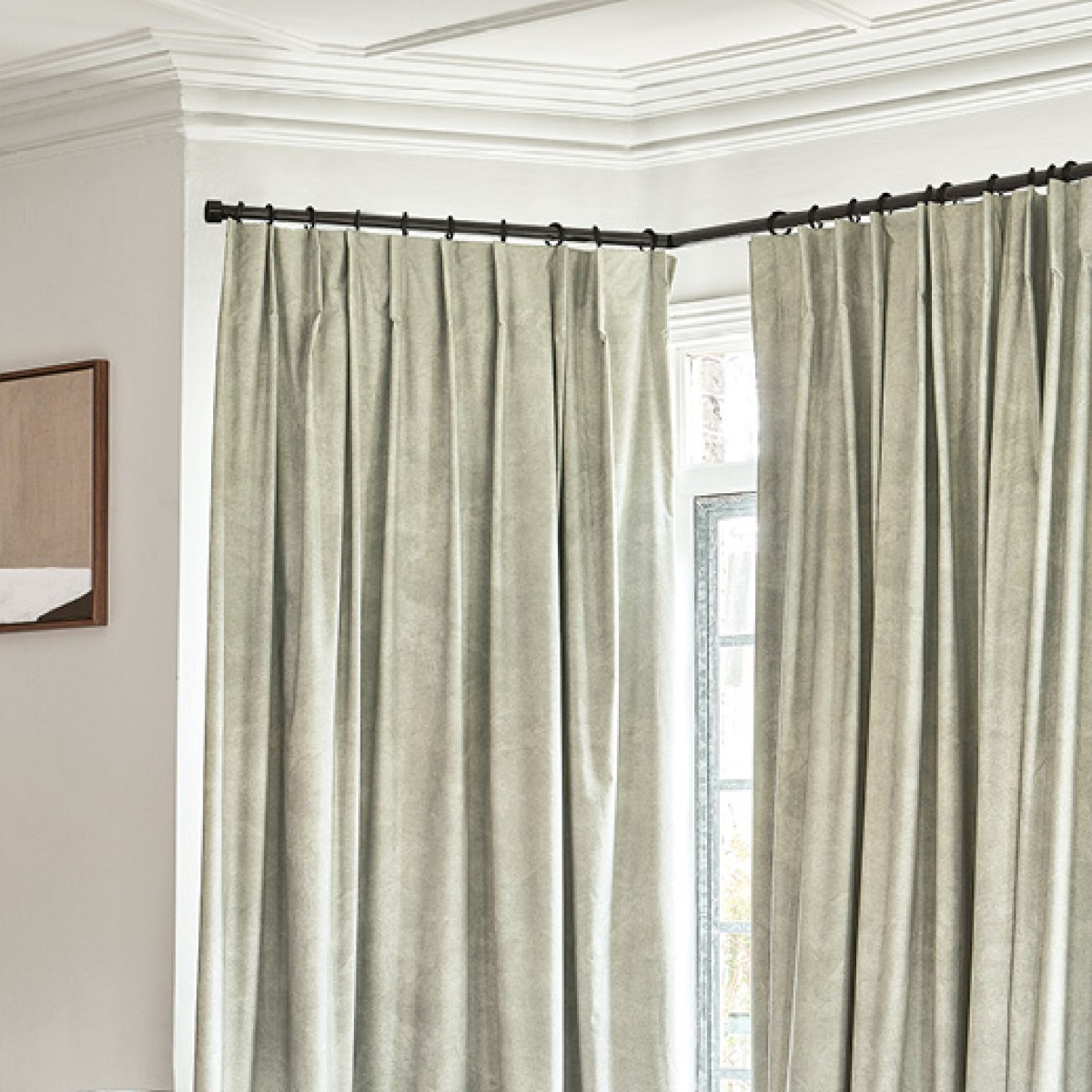 Curtain poles
Curtain poles are the more traditional choice and are made either from wood or metal with the option to customise with different finishes and details. Poles will also enable you to choose from a wide range of curtain headings, such as tab top or eyelet designs. Poles also permit the use of heavier fabrics and thicker linings, as the pole and bracket system is very strong.
Curtain poles require the use of curtain rings (unless being used for eyelet curtains), which are available in a wide variety of styles and finishes.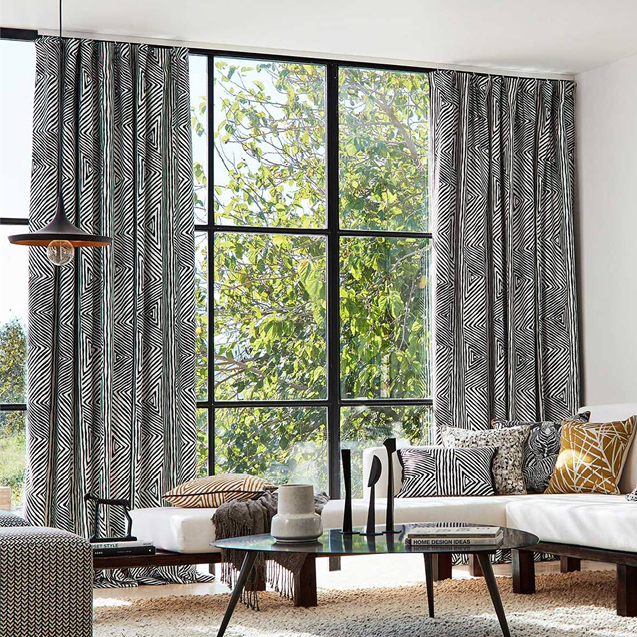 Curtain tracks
Curtain tracks, available in corded and uncorded varieties, are a more subtle hanging method; they are less decorative than curtain poles, because they are less visible. Tracks will usually have a set of clips along their length, allowing you to simply attach your curtains with a small plastic or metal hook. Corded tracks are great for high ceilings or bay windows, as you can use a pull-cord for opening and closing. Tracks allow for a very smooth glide and leave all of the focus on the curtains themselves.
Tracks are not a suitable hanging method for eyelet or tab top curtains, but can be used for all gathered and pleated styles.
Buying the perfect curtain pole
If you've decided that a pole suits your needs best, the decision making isn't over yet! Because a pole is very visible, it can become another outlet for your style and creativity, with lots of different options available in order to achieve the perfect look.
Should I choose a wood or metal curtain pole?
The material of your pole is important for the overall look and feel of your curtains, so consider this carefully.
A wooden pole will give a more natural finish, perfect for pairing with artisan prints and natural fabrics such as linen. We have three styles of pole, and eleven different wood finishes to choose from, giving you a brilliant amount of choice and allowing you to choose the right tone for your chosen curtain fabric and room.
Our metal pole offering has a chic, matte black finish that's perfect for modern and minimalist style interiors. Made from wrought-iron, it's both strong and striking.
Choosing brackets
Another way to personalise your curtain pole is with your choice of brackets. We offer four different types of end bracket for pairing with a wooden pole: Antique Bronze, Satin Brass, Wooden Cup and Chrome.
For our metal pole, there is a simple black iron bracket.
Choosing finials
A further way to make your curtain pole unique is by your choice of finials (the fittings at the end of your pole).
For our wooden poles, we offer a choice of eight types of finial, ranging from simple to slightly more ornate styles.
For our metal pole, there is a choice of five types of finial available, giving plenty of scope to personalise your look.
All of our curtain poles come with matching rings and brackets.
Buying the perfect curtain track
Tracks are a brilliant, practical solution for hanging curtains. They're designed to be subtle, but there are still a variety of different options available to suit your needs. Tracks can be mounted from the ceiling, which is perfect for wallpapered walls.
Corded tracks
Corded tracks are designed for use with a pull-cord for opening and closing, which is brilliant for high ceilings, bay windows and heavy fabrics. We have three types of corded track available, each with their own merits. Our curtain poles with an inset corded track have a chic finish, but all the smooth glide and functionality of a track and are available in four colourways. Our flat tracks are both available with a white finish, and you can choose from contract grade for ultimate strength or a standard track.
Uncorded tracks
Uncorded tracks allow you to open and close your curtains manually, brilliant for a standard window frame. There are five varieties available, including two sizes of curtain pole with inset uncorded tracks, flat tracks in contract and standard grade and a more basic curtain track.
General advice
There are some general things to consider when ordering your pole or track of choice:
When measuring for your curtain pole or track, allow a few centimetres either side of the window to allow your curtains to properly frame your window.
For a pole of over 180cm, you will need a central bracket for stability.
Always mount your pole or track 15-20cm above your window, to allow your curtains to fall elegantly.
We hope that you have found this guide useful in choosing the right curtain hanging method for you, but if you have any further questions, please don't hesitate to get in touch.